2011 Summer anime Part 2: TV anime II
Nyanpire The Animation (TV)
NO.6 (TV)
Usagi Drop (TV)
Blood-C (TV)
The IDOLM@STER (TV)
Mayo Chiki! (TV)
R-15 (TV)
Dantalian no Shoka (TV) (*13 episodes)
Baka to Test to Shoukanjuu Ni! (TV)
Usagi Drops and Blood-C are A-must for me here in part 2! Blood-C is the only original animation here in Part 2 and I'm watching it for sure. And I love the Usagi Drops manga! Loli adaption for the win!! XD
<< TV I | TV II | TV III | OVA I | OVA II | OVA III | Movie >>
(July 06, 2011 @22:54)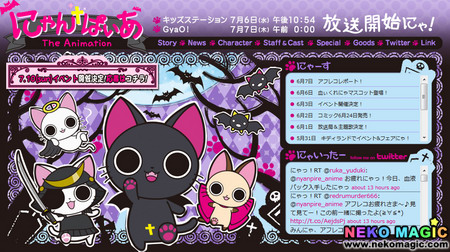 [youtube]139E_h_XToQ[/youtube]
The TV anime series Nyanpire The Animation is created by studio Gonzo, based on Yukiusa's doujinshi The Gothic World of Nyanpire, about a vampire cat. The story follows a black cat who was abandoned and left to starve. Just before the cat's life was to be extinguished, a vampire emerged from the darkness and gave it blood. Now, "Nyanpire" lives as a seemingly ordinary house cat raised by a human girl.
Release Date: July 06, 2011 @22:54
Studio: Gonzo
(July 07, 2011 @25:15)
[youtube]zHi95pHpxYQ[/youtube]
The TV anime series No. 6 is created by studio Bones, based on a sci-fi light novel series authored by Atsuko Asano. The story is set in a future model city in 2013, called "No. 6". Raised as a top-ranking elite since the age of 2, a boy named Shion lives in an exclusive area of the city. On the night of his 12th birthday, he rescues a boy who calls himself "Nezumi" ("Rat"). Nezumi ran away from the city's Special Security Area. From that moment on, Shion's life is changed forever…
Release Date: July 07, 2011 @25:15
Studio: Bones
(July 07, 2011 @24:45)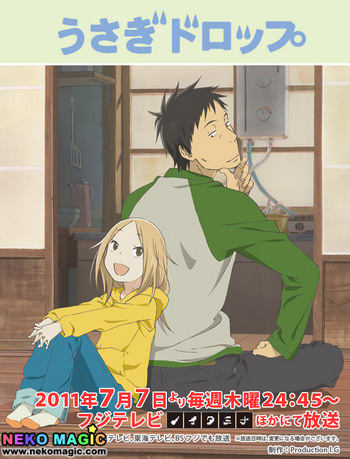 The TV anime series Bunny Drop is created by Production I.G, based on Yumi Unita's comedy / slice-of-life manga otherwise known as Usagi Drop. Going home for his grandfather's funeral, 30-year-old bachelor Daikichi is floored to discover that the old man had an illegitimate child with a younger lover! The rest of his family is equally shocked and embarrassed by this surprise development, and not one of them wants anything to do with the silent little girl, Rin. In a fit of angry spontaneity, Daikichi decides to take her in himself! But will living with this overgrown teenager of man help Rin come out of her shell? And hang on, won't this turn of events spell doom for Daikichi's love life?!
Release Date: July 07, 2011 @24:45
Studio: Production I.G
(July 07, 2011 @25:40)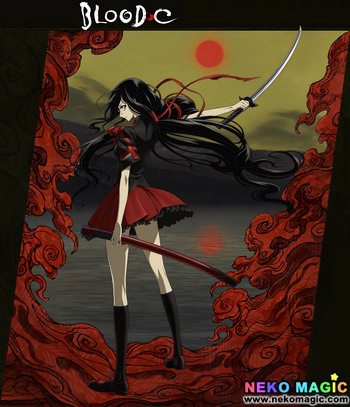 [youtube]-wBTvv5MjwM[/youtube]
New Blood original anime, by CLAMP. In the original "Blood: The Last Vampire" series, Teropterids are evil beasts which pose as humans and live only to drink human blood. A brooding and mysterious girl named Saya is the best teropterid slayer there is, and now, she is sent to a U.S. army base which may be infested. (Note: Actual plot may be differ from this one)
Release Date: July 07, 2011 @25:40
Studio: Production I.G
(July 07, 2011 @25:25)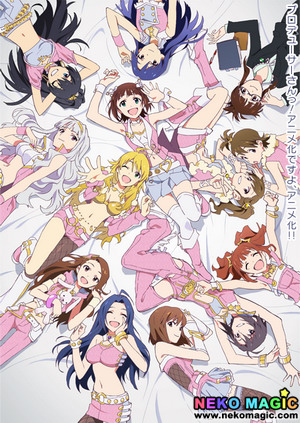 [youtube]Z7iRvfbSD6U[/youtube]
This third Idolm@ster anime project is based on the original 2005 game from Namco Bandai's music (-management) franchise. The anime is produced by Aniplex, and all idols from the game's fictional studio "765 Production" are returning to voice the anime's heroines.
Release Date: July 07, 2011 @25:25
Studio: A-1 Pictures
(July 07, 2011 @25:55)
[youtube]SGxPySa8SJM[/youtube]
The TV anime series Mayo Chiki! is based on a light novel series by Hajime Asano (also adapted as a manga drawn by Niito, with original character designs by Seiji Kikuchi). In this romantic school comedy story, Subaru Konoe appears to be a beautiful boy who serves as a butler to a classmate named Kanade Suzutsuki. However, another boy named Kinjirou Sakamachi accidentally discovers his secret: Subaru is really a girl.
Release Date: July 07, 2011 @25:55
Studio: Feel
(July 09, 2011)

[youtube]RGMMNtJ-ltM[/youtube]
The story centers around Taketo Akutagawa, a student with a secret: he is a talented pornographic novelist with a newspaper-serialized work. He enrolls in a school that only accepts geniuses, and risque trouble ensues there.
Release Date: July 09, 2011
Studio: AIC
(July 15, 2011 @25:23)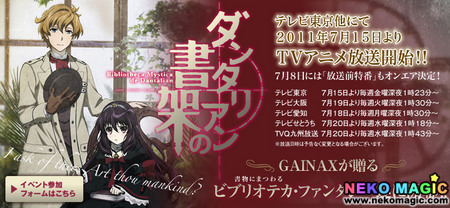 [youtube]YbkMTYniUI8[/youtube]
The anime adaptation Bibliotheca Mystica de Dantalian is based on a light novel series written by Gakuto Mikumo (Asura Cryin') and illustrated by G Yuusuke. The story centers around a young man named Huey who inherited a musty old estate, as well the entire book collection contained therein, from his grandfather. Huey meets Dalian, a girl in a black dress who is quietly reading in the basement piled high with books. Dalian controls the gateway to the Bibliotheca Mystica de Dantalian, the forbidden books of demonic wisdom.
Release Date: July 15, 2011 @25:23
Studio: GAINAX
(July 2011)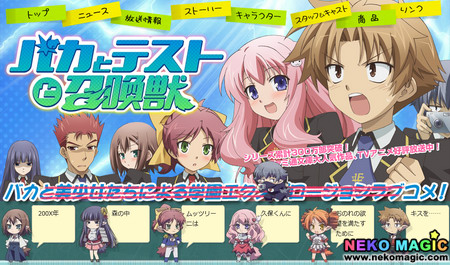 [youtube]m5v4VgC7auA[/youtube]
Sequel of the Baka to Test to Shoukanjuu series. Advancecd placement into a school of higher grade proof-reading is determined by the results of the Promotion Test strictly for class type. Students can change classes by competing using the Examination Summons Battle system.
Release Date: July 2011
Studio: Silver Link
<< TV I | TV II | TV III | OVA I | OVA II | OVA III | Movie >>