2011 Summer anime Part 1: TV anime I
Inumarudashi (TV)
Double-J (TV)
Blade (TV) (*12 episodes)
Uta no Prince-sama – Maji Love 1000% (TV)
Natsume Yuujin-Chou San (TV)
Yuruyuri (TV)
Kaitou Tenshi Twin Angel ~Kyun Kyun Tokimeki Paradise!!~ (TV)
Kamisama Dolls (TV)
Morita-san wa Mukuchi (TV)
This summer anime season is going to be really boring for me. Most of the show this season are adapted from manga and I have read most of them. The "Kamisama Dolls" looks like the best show here in Part 1. I love the manga very much and I think I'll watch the anime too. I might watch "Yuruyuri" too just for the MOEness if I have time. Those girls are really stupid in the manga by the way. XD
<< TV I | TV II | TV III | OVA I | OVA II | OVA III | Movie >>
(June 2011 @18:00)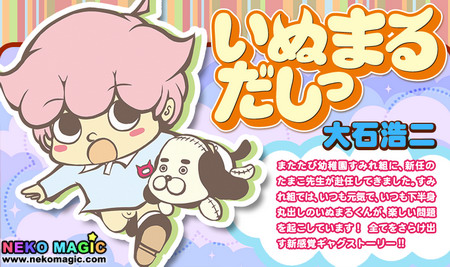 Yamada Takamo has always wanted to be a kindergarten teacher, but when she has her first day she meets Inu-kun. Inu is a super problem child who to top all things, refuses to wear pants or underwear. How will she manage her new kindergarten career?
Release Date: June 2011 @18:00
Studio:*TBA
(June 2011 @25:29)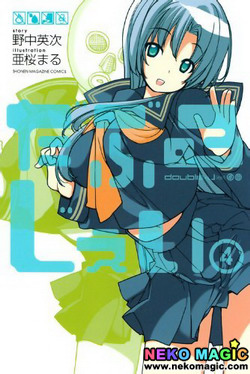 In a school where after school activities are mandatory among all students, Hajime and her friend Sayo come across a new club that they have never seen before. The club is called "The Cultural Activity Preservation Club." The two enter the room to find all kinds of analog jobs and activities, such as handcrafting mats and toothpicks. This is a unique cultural manga mixed with comedy so as not to bore you, this is Double J!
Release Date:June 2011 @25:29
Studio: DLE Inc.
(July 01, 2011 @22:00)
The TV anime series Blade continues the four-part Marvel Anime project created by studio Madhouse, which began in 2010 with the Iron Man anime and continued in early 2011 with the Wolverine anime – the third project being the X-Men anime. The story will of course focus on the titular character otherwise known as Eric Brooks – who seeks revenge on Deacon Frost, the vampire lord who killed his mother while she was still pregnant with Eric. With all the powers of a vampire, but with none of their weaknesses, Blade's quest for vengeance leads him throughout Southeast Asia in search of Frost. Arriving in Vietnam, he discovers a vampire plot that threatens to take down the whole world.
Release Date: July 01, 2011 @22:00
Studio: Madhouse/Marvel
(July 02, 2011 @24:00)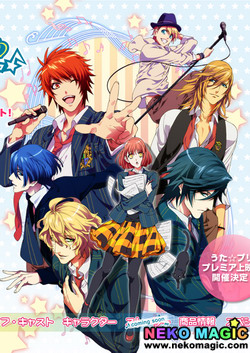 Uta no☆Prince-sama♪ -Sweet Serenade- (PSP) Trailer
[youtube]7XAFnAXANh0[/youtube]
Adapted from a PSP game. In the slapstick romantic comedy, a girl goes to a school for the performing arts with boys who are budding idols.
Release Date: July 02, 2011 @24:00
Studio: A-1 Pictures
(July 04, 2011 @25:30)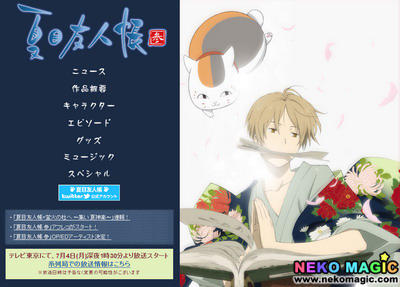 Natsume Yuujinchou 2 OP
[youtube]yRpbbP4TZVk[/youtube]
Sequel of the Zoku Natsume Yuujin-Chou series. Natsume Takashi has the ability to see spirits, which he has long kept secret. However, once he inherits a strange book that belonged to his deceased grandmother, Reiko, he discovers the reason why spirits surround him.
Release Date: July 04, 2011 @25:30
Studio: Brain's Base
(July 04, 2011 @26:00)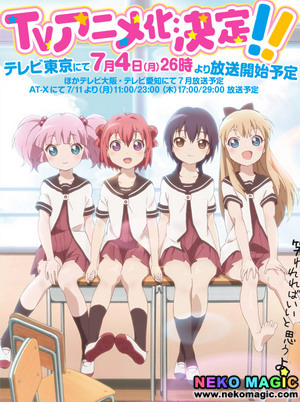 The TV anime series Yuruyuri Yuri is based on Namori's manga about 4 fun-loving schoolgirls who take over the former room of a tea ceremony club for their own "Gorakubu" (amusement club).
Release Date: July 04, 2011 @26:00
Studio: Dogakobo
(July 04, 2011 @25:45)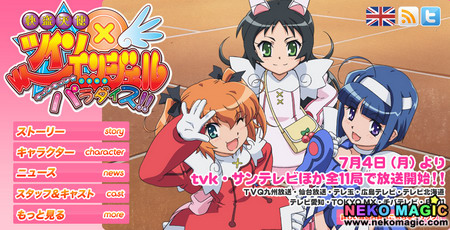 [youtube]ntCw0ZSis2A[/youtube]
The TV anime series Kaitou Tenshi Twin Angel is created by studio J.C. Staff, as the follow-up to the 2008 OVA Twin Angel that featured the angelic duo Haruka "Red Angel" Minazuki and Aoi "Blue Angel" Kannazuki. This series adds a new character named Kurumi "White Angel" Hazuki.
Release Date: July 04, 2011 @25:45
Studio: J.C.STAFF
(July 26, 2011)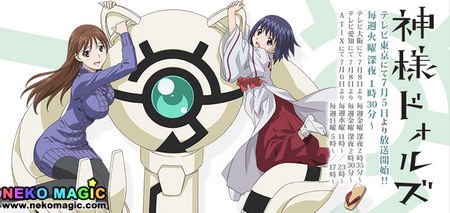 [youtube]HXsGRh261nQ[/youtube]
[youtube]ToLVbJJY4QY[/youtube]
The anime adaptation Kamisama Dolls is based on Hajime Yamamura's supernatural action manga about powerful "god" figureheads. The story centers around Kyouhei, a college student who grew up in a village that deified figureheads named kukuri as gods. Kyouhei abandoned his hometown when he moved to Tokyo and immersed himself in college life. However, he comes across his younger sister Utao with her kukuri in Tokyo. He learns from his sister that a fugitive named Aki from his hometown has also arrived in Tokyo (with his kukuri in tow) and is responsible for a horrific crime that Kyouhei had just witnessed. Kyouhei realizes that he cannot escape what he tried to leave behind in the village.
Release Date: July 05, 2011 @25:30
Studio: Brain's Base
(July 05, 2011 @25:30)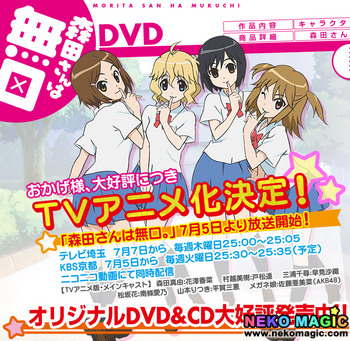 [youtube]3JegxeJ0zzU[/youtube]
The first OVA adaptation of Morita-san wa Mukuchi is created by Studio Gram, based on Tae Sano's comedy / slice-of-life 4-koma manga of the same title. The original story follows the everyday life of Mayu Morita, a girl who is exceedingly gentle and thoughtful, to the point that she does not say much of anything to anyone in high school.
Release Date: July 05, 2011 @25:30
Studio: Studio Gram
<< TV I | TV II | TV III | OVA I | OVA II | OVA III | Movie >>