2011 Spring anime Part 5: TV anime V
Tono to Issho: Gantai no Yabou (TV)
Ano Hi Mita Hana no Namae wo Boku-tachi wa Mada Shiranai (TV)
Shiawase Haitatsu Taneko (TV)
Sock Monkey wa Kimi ga Suki (TV)
Chichi no Hi Ouen Anime (TV)
STEINS;GATE (TV)
Suzy's Zoo Daisuki! Witzy (TV)
Fireball Charming (TV)
Sofuteni (TV)
Fujilog (TV)
Appleseed XIII (TV)

Here is the last part for TV anime. "Ano Hi Mita Hana no Namae wo Boku-tachi wa Mada Shiranai" (Ano Hana) looks really really interesting, and "STEINS;GATE" is A must for me. "Fireball Charming" is good too, but I'll wait a bit and watch it all at once in next season.
Seems like I have over 10 anime to watch in Spring. I really hope I have enough time for them. (@@.
<< TV I | TV II | TV III | TV IV | TV V | OVA I | OVA II | OVA III | Movie >>
(April 2011)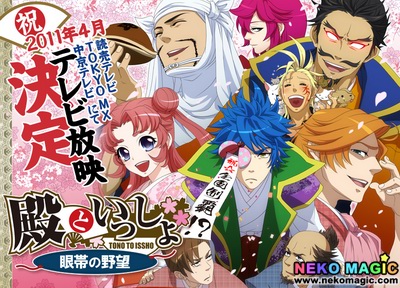 [youtube]U6QJmaX91QU[/youtube]
Follows the daily lives and details the eccentricities of Date Masamune, Uesugi Kenshin, other famous territorial lords, and their followers during Japan's Warring States period.
(April 2011)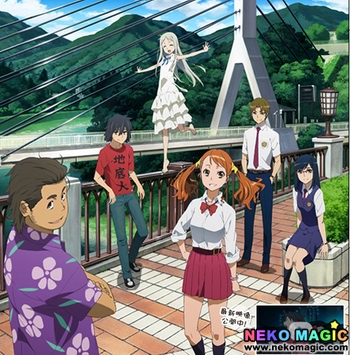 [youtube]L4nrcphjU7k[/youtube]
Six childhood friends grew apart in high school. One of them is Jintan, now a shut-in. He gets a request to fulfill a wish for Menma, the only one of their friends to have stayed the same over the years. In order to grant her wish, he will have to find and reunite their old friends.
(April 2011)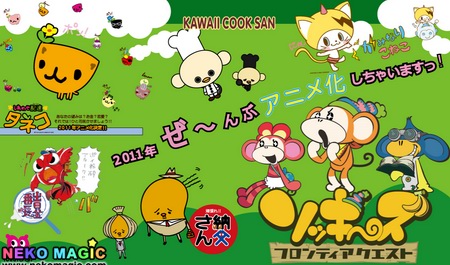 The story centers around a cat who answers people's wishes and delivers happiness. (Tane" and "neko" are the Japanese words for "seed" and "cat", respectively.)
Sock Monkey wa Kimi ga Suki (TV)
(April 2011)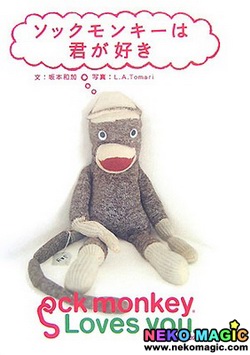 TV anime adaptation of Waka Sakamoto and L.A. Tomari's 'Sock Monkey Lovers You' hobby craft book. The 2007 book teaches Japanese people about the century-old Western tradition of making stuffed monkey toys from socks.
Chichi no Hi Ouen Anime (TV)
(April 2011)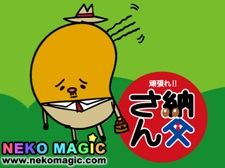 (April 2011)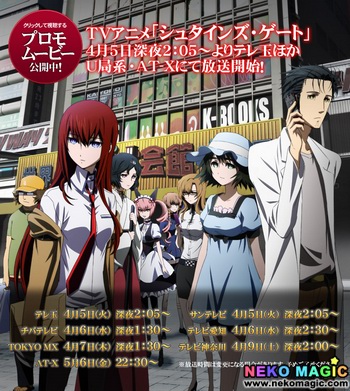 [youtube]3ngiZjmnPgc[/youtube]
A group of friends who have customized their microwave into a device that can send text messages to the past. As they perform different experiments, an organization named SERN who has been doing their own research on time travel tracks them down, and they are not happy.
(April 2011)
[youtube]bOs1xd3z7a0[/youtube]
The anime adapts the American greeting card line Suzy's Zoo from the San Diego-based artist Suzy Spafford. The story will center around a duckling named Witzy and his stuffed animal friends in a verdant backyard.
(April 2011)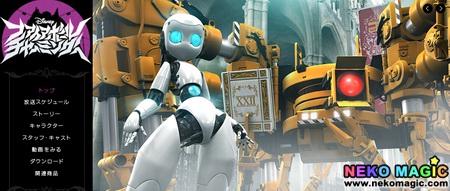 [youtube]tQz6YXue36Q[/youtube]
Sequel to the original Fireball 3D aniamtion shorts. The story is about a female robot duchess named Drosel von Flügel and her guardian servant robot Gedächtnis
Air Date: April 2011 (*13 episodes)
(April 2011)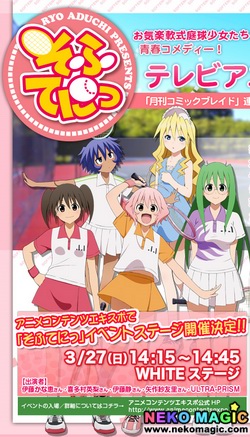 [youtube]GGmQuPr8vwc[/youtube]
Kasuga Asuna is a junior high school girl, who belongs to a soft tennis club. Her aim is to win the national championship but such a dream has gone somewhere else in her school life filled with fancies and ecchi accidents.
(April 2011)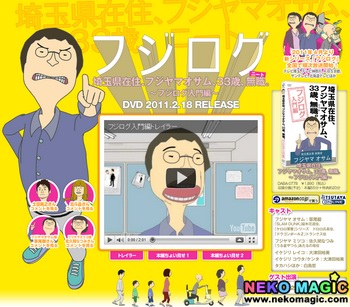 [youtube]t4h8tHOFXpA[/youtube]
(May 2011)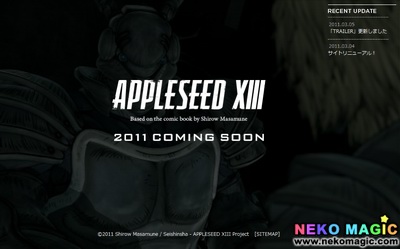 [youtube]qEQPEFHnzDU[/youtube]
Appleseed takes place in the 22nd Century, after the non-nuclear Third World War decimates the Earth. International organizations like the "Sacred Republique of Mumna" and "Poseidon" have been established in the aftermath.
Air Date: May 2011 (*13 episodes)
<< TV I | TV II | TV III | TV IV | TV V | OVA I | OVA II | OVA III | Movie >>