Reviewed – by kokoda_koji
Babaroa: Maa~ It's really a good story.
I agree with you, Babaroa. This ep is really a good story. Those Karen/Komachi fans will be very happy for this ep. They trick Shibiretta like Hansel and Gretel, and the fight is cool. Sometimes it may think that there is no need to have 5 people, but I think 5 people have to come together (+Milky Rose should be 6) for fighting the Eternal boss. Also Babaroa is an interesting and energetic creature, she can talk and talk throughout the whole ep if Nozomi didn't force her to sleep…Comparing her to Donut, Donut is more discipline…Her noisy behaviour looks like Porun and Mepple, but Porun and Mepple are noisy when they want to eat or feel bored, other than that they are quite discipline..This one, even when she is going to sleep, she still can talk…Next ep Bunbee is back, at least we don't need to see Shibiretta (feeling that she appear too many times, and where is Nebatakos?)…In addition, I watch this ep as fast motion in nico and later in normal speed in Daum.
The pictorial comment this time will be split into two chapters:
Chapter 1: Kokoda's Gorgeous File–Cinq Lumiere student missing case
Genernally review this ep in detective format
Chapter 2: Shibiretta's World Famous Story Play–Hansel and Gretel
To focus on the main story of this ep
Also I had promised that I will take many screenshots for Karen and Komachi and I did it, hope you will enjoy.
Before that, let's see what we can see in this ep:
Babaroa's talk–her talk is really powerful that PC5 are puzzled for taking care of her…
Shibiretta's state in Eternal–According to Anacordy, she is trustworthy by Eternal boss.
Karen and Komachi's combination–last ep we can see Nozomi and Rin's combination, this time is Karen and Komachi. They are very close friend that they can know each other's thought without voicing out (just by eye contact)
The reason they have to do together, or they have so many snacks in this ep–for greeting to the industry, which helping them in social studies tour when they are in Secondary 1
The change of Sapphire Arrow–the arrow can splits into many and trap the enemy (this one can explain clearer by seeing the picture in the pictorial comment)
A scene where Coco asks other students–Are the students the two appearing in Coconuts' Drama CD 2? It's rare to see Kokoda contact with other students besides PC5 and Masuko..
All right. Let's proceed to pictorial comments!
This time I review the ep in detective mode (like Detective Komachi? Now is Detective KokodaXD)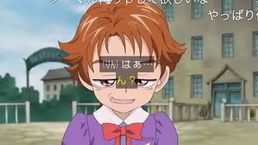 12:00 in Cafe Restaurant
PC5 are having lunch, and Rin appears in Panda eye, why?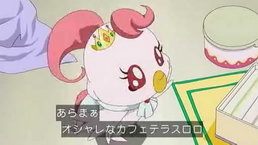 Yes, because of this talkative creature–Queen Babaroa!

She keeps talking in front of public…(why no one discover….)
Rin can't take care of her when she is in ECA activity, so who will…

Urara?
She can't, she has class duty…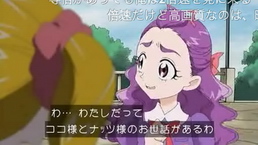 How about this caretaker?
She refuses as she need to take care for Coconuts (Coco and Nuts actually don't need you to take care…)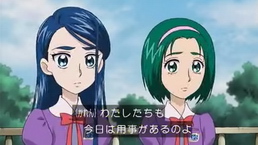 Then Karen and Komachi?
They need to go to somewhere together after school.
Hence, the rose pact is with Nozomi now.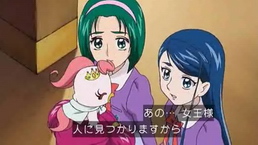 Around 3:00-4:00 pm, after school, in Library
Nozomi meet Komachi and Karen for stopping Babaroa to talk
The following is the time to instruct how to use rose pact to control the Queen and Palmin:

First, choose the Futon (the blanket) Palmin
Secondly, circle the screen with the pen (like when playing SS game in NDS, the time when Bloom and Egret show their final attack)
Lastly, Queen will be forced to sleep even she is still talking (that's amazing…talking even going to bed)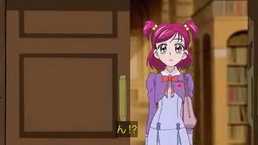 After that, Nozomi go to Nuts House first…

nd she is trapped into a scary forest. (this scene is something like YPC5 ep 38…)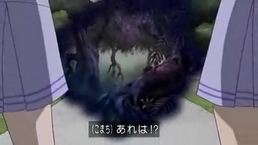 The seniors found a weird space and they go into it (for saving Nozomi)

Around the same time, after the three student missing, in Nuts House
Coco & Nuts: What happened? (the actual dialogue is not like this)
(please imagine this scene when Conan/Kidaichi heard someone screaming…)
They only act cool at this moment..other than that they didn't do anything…
Nuts: this feeling…don't tell me that…
Nuts, are you New type? Perhaps…Coco is also New type…
"We are New type princes" are born.XD
To confirm who are missing,

Statement 1 (by Rin): Nozomi should leave the school earlier than me…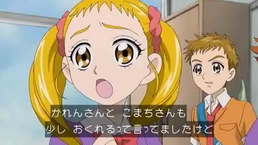 Statement 2 (by Urara): Karen and Komachi had said that they will be here later…
and the witnesses: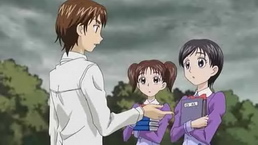 The student A and B in the school.
So it's confirmed! Nozomi, Karen and Komachi are the missing students!
To know if they are found, it will be continued after chapter two.
Before it begin, let me post this:

The following are designed dialogues:
Anacordy: What's today story?
Shbiretta: hehehe… today is Hansel and Gretel…it should begin now…

Title: Shibiretta's World Famous Story Play–Hansel and Gretel (actual title: Karen and Komachi's Candy House)
Who is the actors?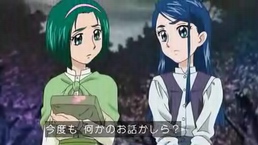 Yes, Karen is Hansel and Komachi is Gretel, to see the full outfit, here it is (from precure BBS):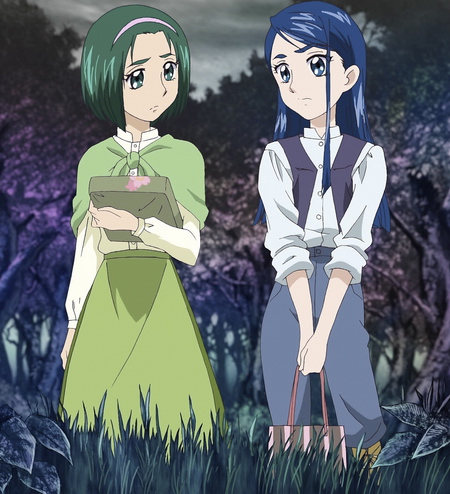 Shibiretta is the witch and Nozomi…is she extra? no, she will be the key for going back to the real world….how we know this? the following pictures show:

Since Nozomi is the key for going back home, they are worried that if they can find the key to go back…the method to find the key is :

Putting the snacks as tracking marks in the forest…same as the original one, Hansel and Gretel originally put the stone on the way, then they can go back home (later their stepmother throw them to the forest again and they put breadcrumbs on the way, and they are lost as the animals in the forest eat the breadcrumbs)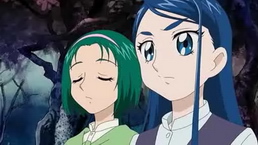 As the story goes, they will discover….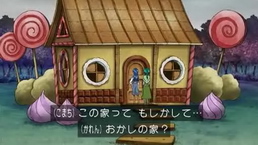 Yes, a cute Candy House!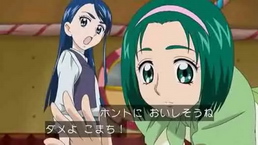 Originally Hansel and Gretel eat the house, so will Karen and Komachi eat the house? Komachi is attracted by the snack here, but Karen stop her immediately!

Karen: it's amazing…who make the house…? (it's Shibiretta)

Komachi: In the original, when Hansel and Gretel was indulging in eating the house, something will come out…

you are right, Komachi! Shibiretta (the witch) appear!
And Nozomi now…

seems she finds something…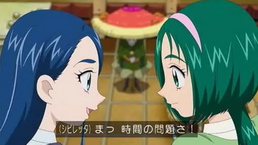 You two are right again. Nozomi had not met Shibiretta yet. But Shibiretta is angry with these two clever girl, so….

She takes CureMo! If I am not wrong , this is the first time see the enemy stealing the henshin item in Precure series…(last season Pinky catcher is not easily stolen)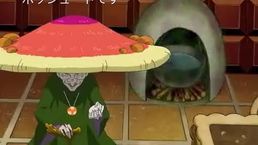 Now showing Cooking Shibiretta (come from cooking mamaXD)
The dish she want to introduce is "Precure pot with CureMo", the ingredients are Precurex3, CureMo for seasoning…
but the taste is not guaranteed.
oh..have to come back, Shibiretta follow the story rule that she cook Karen and Komachi, plus Nozomi, but before that, she had to find Nozomi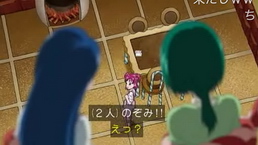 Too bad Nozomi arrive the Candy House before Shibiretta catch her (she is saved by her Snack sensorXD)
And she finds Karen and Komachi (with nice poseXD)
So Karen (Hansel) and Komachi (Gretel) can go home as original ending, but Shibiretta won't let them go. Before the fight, Shibiretta said what Karen and Komachi told her about Nozomi:
"You are super idiot in direction and super clumsy, you should not be here"
Of course Nozomi is angry:

Nozomi " I am not direction idiot and clumsy, right"? and asking the people (Karen and Komachi) who said this….

Karen: Yes, you're right.
Komachi: It's impolite…(you are saying Karen, Komachi…)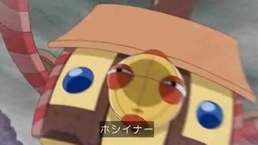 Candy House Hoshina appears!
Of course, as following Precure/super hero rules, they transform: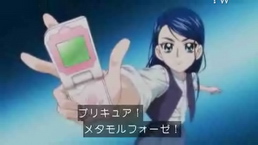 Precure Metamorphosis ~Hansel and Gretel edition

Again V-dash, but this time is sideway V-dash, so it looks better than YPC5 ep 42…

First Attack: Emerald saucer!

Hoshina dodge it? no, Mint is not aiming it…

Oh no~! chopping trees! Are you really Tranquility of the Green Earth?

Second attack: Sapphire Arrows
why Arrows? it's because this time Sapphire Arrow split into many arrows to: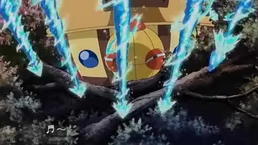 Trapped Hoshina, and watering the treeXD (but the trees are dead…)
and after shooting star, they can go back to the real world.
–chapter 2 end—
At last, Kokoda and others find them: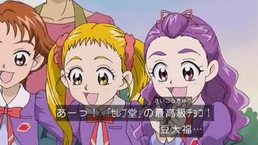 Statement 1: (by Milk) WA! Celeb's high class chocolate!
Statement 2: (by Nuts) Mame Taifuku…
Nozomi said she find these in the forest, and they are the tracking mark by Karen and Komachi. These are the snacks they put…
and why they have so many? because these are the present for the industry staff, who had helped them before and now. They are really good girls…

Lastly, Babaroa appears again! As she had slept, she is even more energetic…that all people run away…
It's funny that Babaroa always stand on Nozomi's head when she appears…
There are 3 Extras here:
Babaroa's speech in this ep
The relationship of Donut, Babaroa to PC5+mascots
Hansel and Garfield
So Babaroa talks a lot in this ep, so what she is talking? the following shows:
In the beginning:
Oh~what a fancy cafe~and big…what a perfect school!
My Babaroa kingdom castle is big as well, and it is easily get lost, which is the problem….
Oh ya! Saying cafe…My caretaker's dessert is the best….
In the library:
Oh…you two (Karen and Komachi) are going home together? What a nice close friends….
When she sleep:
Since the teenager are pre-mature, I have to know many up-to-date phrase in order to communicate with you all, even though I am a Queen. It is an important thing…I …I…Good night..
The last:
Oh~ What a nice story~
When I was young, I won't forget to thank others, even for trivial things….
In this ep, Rin and Nozomi takes care for Babaroa, so who take care for Donut previously?
Well, Donut is sleeping most of the time, may be he doesn't need taking much care, but I think the person(s) who take care for Donut are:
Karen
Nuts
For the relationship to Pc5+mascots:
In Donut case~
Nozomi: Quite bad impression in the beginning, as she keep looking at him, later even he has better impression to her, he does not talk to her much
Rin: good impression in ep 6, but seldom talk to her after that ep…
Urara: Perhaps good impression? He give her his "phone card" when he leave
Komachi: dunno, no conversation….
Karen: talk to her most I think…may be he get along the best with Karen…
Coco: Very bad impression at the beginning, later has better impression but seldom talk to him
Nuts: bad impression at the beginning (but better than Coco I think) later get along quite well (ep 14)
Syrup: Heard that Syrup has bad name, Donut always persuade him to help..but actually I think Donut treat him well.
Milk: Worst impression among all I think…
In Babaroa case~
Generally getting along well to everyone, but she like Rin the most, Nozomi is the second favourite.
I saw Garfield version of Hansel and Gretel in youtube, here it is:
[youtube]http://www.youtube.com/watch?v=BX8UxOjISfw[/youtube]
According to Karen and Komachi, originally the ending is Hansel and Gretel trick and kill the witch by pushing her to the pot…In Garfield version, the witch has good ending! XD