2011 Winter anime Part 1: TV anime II
Cardfight!! Vanguard (TV)
Freezing (TV)
Beelzebub (TV)
Kore wa Zombie desu ka? (TV)
Level E (TV)
Dragon Crisis! (TV)
Fractale (TV)
Hourou Musuko (TV)
IS: Infinite Stratos (TV)
<< TV I | TV II | TV III | OVA I | OVA II | OAD | Movie >>
(January 08, 2011)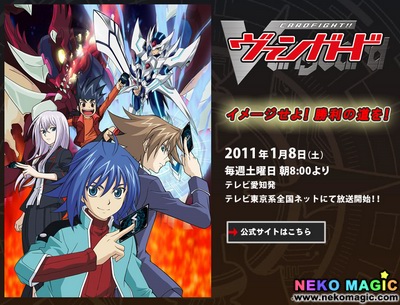 [youtube]BxxNGS46fAs[/youtube]
TV anime based on the game that is acollaboration between Yu-Gi-Oh! R manga creator Akira Ito, the original Duel Masters technical advisor Satoshi Nakamura, and Bushiroad President Takaaki Kidani.
Release Date: January 08, 2011
(January 08, 2011)
[youtube]fIchqxNlZeU[/youtube]
One day the earth was invaded by extra-dimensional beings known as "The Nova". Using manufactured tissue called "Stigmata" and branding it into their bodies, a new breed of female warriors was born. Taking a younger boy as a partner, the two fought as a pair of combatants. These girls are also the only power on earth that have the power to resist the Nova's freezing effect.
Release Date: January 08, 2011
(January 09, 2011)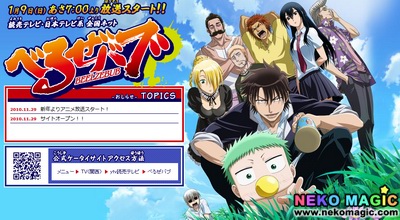 [youtube]Dgiqx96AyIU[/youtube]
The story follows the "strongest juvenile delinquent", Oga Tatsumi, a first year in "Ishiyama High" the school for delinquents. One day while sleeping next to a river he sees a man floating down it, he pulls him to shore and the man splits in half revealing a baby boy. This boy is the son of the demon king and he has been chosen as the one to raise it with the baby's demon maid Hilda. The story follows his life with the child and at the delinquent school.
Release Date: January 09, 2011
(January 10, 2011)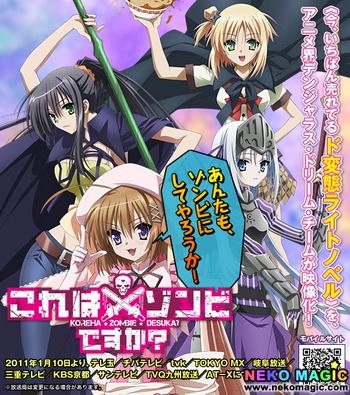 [youtube]ZYopij1eR8s[/youtube]
Aikawa Ayumu is a normal high school boy. One day he is killed by a serial killer and revived as a zombie by a necromancer named Eucliwood Hellscythe. He starts to serve Eu as her guard but he happens to deprive the mahou shoujo Haruna of her magic power. Haruna orders Ayumu to fight against the anti-manhou shoujo system "Megale" in her place.
Release Date: January 10, 2011
(January 10, 2011)
[youtube]iWIEvASicIM[/youtube]
Tsutsui Yukitaka is a freshman who finally convinced his parents that he can live on his own. But when he arrives at his new apartment, he finds a young man who claims that he is an alien and that he is suffering from amnesia.
Release Date: January 10, 2011
(January 10 2011)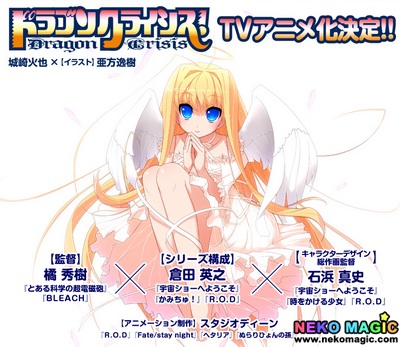 [youtube]7S9cHaQtcpY[/youtube]
A normal high school boy Kisaragi Ryuji's peaceful life is turned into an adventure by the return of his second cousin Eriko. Ryuji and Eriko seize a relic box from a black broker. In the box, they find a red dragon girl Rose. In order to protect Rose from the black organization, Ryuji decides to fight using his power.
Release Date: January 10, 2011
(January 13, 2011)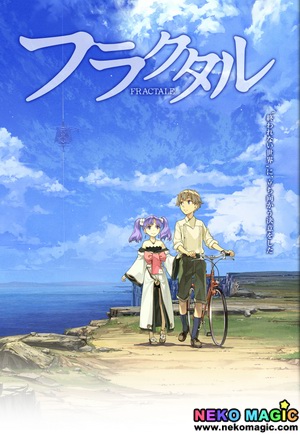 Then story takes place in an island, where a "Fractale System" is beginning to collapse. One day, Crane finds an injured girl called Phryne under a cliff. She disappears leaving a pendant. Crane sets out for a journey with the girl-shaped avatar Nessa to look for Phryne and discovers the secret of the Fractale System.
Release Date: January 13, 2011
(January 26, 2011)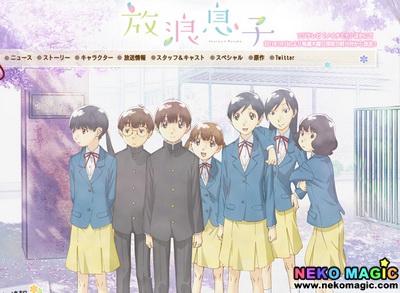 [youtube]pejectC1SVU[/youtube]
Shuuichi Nitori is a 5th grade student who likes to bake and has always been something of a feminine boy. When he transfers to a new school, Shuuichi is mistaken for his 6th grade sister on his first day. Then he ends up sitting next to Yoshino Takatsuki, a tall, boyish girl who everyone calls "Takatsuki-kun". They both have secrets they can't let anyone know…
Release Date: January 26, 2011
(January 2011)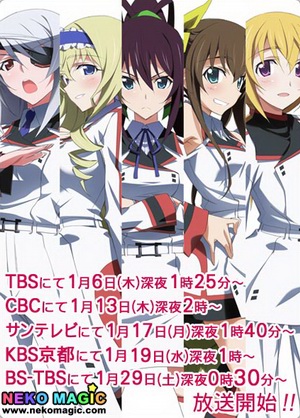 [youtube]jXAjCHK8k_A[/youtube]
Japan engineered an armed powered exoskeleton "Infinite Stratos" (IS) and it became the mainstream of weapons. Since only women can operate IS, women dominate the society over men. Orimura Ichika is a 15 year old boy and accidentally touches an IS placed in the IS pilot training school. He is found to be the only man who can operate IS and forced to enter the training school. Ichika's buys school life surrounded by girls has begun.
Release Date: January 2011
<< TV I | TV II | TV III | OVA I | OVA II | OAD | Movie >>