Reviewed by kokoda_koji
Today's review may not be a good one as there is no picture comment for this review. The reason is I cannot capture the pictures from the online video which I watched ep 40 (I did not watch from nico video and veoh, and when I pause in that online video website, the ad pop up on the screen, so I could not capture, also I did not have the free time to capture this week). For the pictures on ep 40…hopefully I can show some when I write the next review…
This ep is Urara's ep, to tell us if she can pursue her dream; of course the answer is yes as we know, and she can fulfil her dream that she can perform her mother's last musical performance. In my opinion, this ep is so so. The drawing is nice, and the fighting….actually not much fighting part I think…they finish the Hoshina quite fast (using rainbow rose), I am only impressed when Lemonade catch the Hoshina using Prism chain, turn and toss it.
For the mermaid clothes, as I had commented in the last review, I had nothing to say…but among 6 of them, Karen surprisingly suits this clothing (perhaps cos she look mature).
The three guys had been turned into sea animals, and this time Coco become very useful when taking back the pact (as he is octopus, he can emit thee black fluid to confuse Shibiretta), but he is being thrown by Kurumi|||(a king is being thrown by his servant…)
The best part (should be the only part) for this ep is Shiro X Urara! Urara uses Syrup's ticket in this ep (remember the ticket? it is from ep 18). In this case, there may not be much Shiro x Urara in the further ep as this ep is concertrating on them already…also next few eps theme are: ep41-Rin x Mugadia(?), ep 42- Komachi (x Nuts, may be), ep 43- Coco x Nozomi, ep 44 group Christmas party.
What we can see in this ep:
Shiro x Urara- had mentioned above, the charming point for this ep is Urara uses Syrup's ticket
The importance of the audition this time- unlike previous ep, Urara does not allow herself to fail this time, as this musical is related to her mother, which is the musical that her mother perform before
How Urara's singing voice is captured- this is the main title of this ep, but the way Shibiretta steal Urara's voice is not very convincing…because the way it show like her voice is stolen from nowhere…I mean at least it should show how Shibiretta collect her voice into the shell.. also if her voice is stolen in the audition day (before her interview), then this ep will be more interesting..
Op in this ep- again the movie trailer op, this time is focused on Miiky Rose, she fight with the original Mushiban in front of the dessert queen (seems to be she goes to the castle with Chocola, and meet Mushiban)
This is from the next ep review- the real Mugadia face, expectedly his true form is not as good looking as Scorp and Bunbee (I think they look cool in their real form, comparing to other enemies, but except Kawarino)
Since there is no picture comment (sorry about that), I only can give some extras here:
Extra 1: ep 42-44 info
Extra 2: Yes! Angel 5 Go Go
This is from Precure channel
42話 こまちの決意とアラビアンナイト (Komachi's decision and Arabian Knight)
The story Shibiretta use is Aribaba and 40 bandits, and Komachi is angry with the way Shibiretta playing around the novel/fairy tales.
43話 恐怖!エターナルの館長! (Scary! Eternal's boss…why the title look like ep 39 last season…)
Nozomi is studying in the school library, Coco find her and go back together. On the way, they meet Eternal's boss (ep 39 and this ep tell us that Nozomi cannot only go with Coco, else they will meet the enemy bossXD)…He want to define Precure power. He steals the Rose pact and attack Nozomi and Coco! Others later take part in the fight, but they cannot defeat the boss (<<–of course)
44話 届け!みんなのプレゼント! (Deliver! Everybody's Present!)
Pc5 is decorating Nuts House for Christmas. Mailpo give out a list of present list from the children. PC5 decide to help sending the presents to the children. On the way, Syrup and Urara meet an old man who lost his sledge (so he is Santa Claus). oh, this ep also has a little bit ShiroxUrara here…
This is the Doujinshi I recently do, and I am worried that if I can finish it before 20th Dec….
The title is Yes! Angel 5 Go go!, which is the parody comic of Galaxy Angel & Yes! Precure 5 Go go. The story is based on/ the continuity of the parody ep , Galaxy Angel 3rd season ep 49, which is about Angel 5.
***the following pictures are drawn by me. Please do not distribute it without my permission***
Firstly the title page (not the cover of the book)
The coloring is not very accurate here, may be I use CMYK mode…Is this pose familiar? this is a scene from PC5 gogo op..
the following two are 2 pages of the content (as I have not finished yet, there is no dialogue and the toning)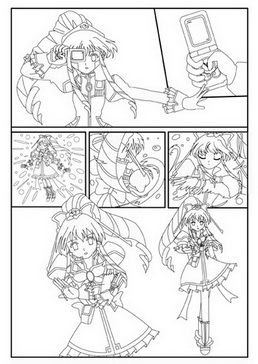 Vanilla in Karen/Aqua positionXD I draw the transformation each Angel per page (i.e. 6 pages with the final pose)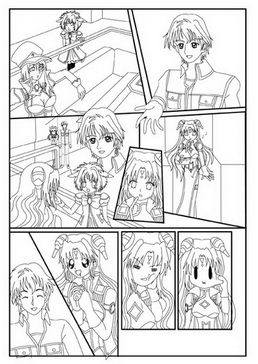 Coco appears here! but only for 3 pages…but I draw him not very well here (being distorted already)…
If I finish this before 20th Dec, this book will be sold in Rainbow Gala on 28th Dec (a Doujinshi event in HK)