2010 Fall anime Part 7: Anime Movie:
Kowarekake no Orgel (Film)
Gundam 00 The Movie: A Wakening of the Trailblazer (Film)
Break Blade 3: Kyoujin no Ato (Film)
REDLINE (Film)
Onigamiden (Film)
Omae Umasou da na (Film)
Jump Super Anime Tour 2010 (Film)
Heartcatch Precure! Fashion Show in the Flower Capital… Really? (Film)
Armored Trooper Votoms: Case; Irvine (Film)
Mardock Scramble 1: The First Compression (Film)
Tobidasu Ehon 3D (Film)
<< TV I | TV II | TV III | OVA I | OVA II | OVA III | Movie >>
( September 11, 2010)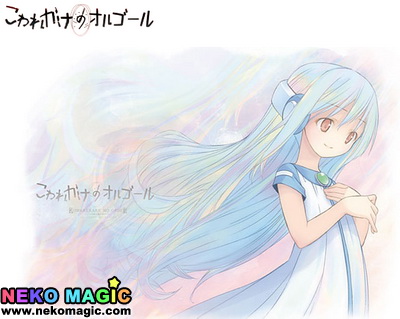 [youtube]liW9XxFVTJE[/youtube]
Moetan illustrator POP designed and supervised the project under his ElectromagneticWave dōjin brand. The story centers on a musician who goes to one unsuccessful audition after another. One day, he meets a mysterious girl who ends up living with him.
Release Date: September 11, 2010
(September 18, 2010)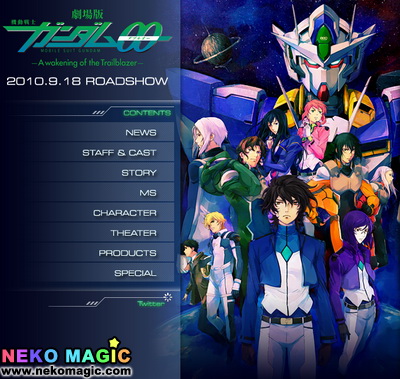 [youtube]mSEYXgffs0Q[/youtube]
Mobile Suit Gundam 00 the Movie: A Wakening of the Trailblazer is the theatrical anime sequel to the two seasons of studio Sunrise's Gundam 00 TV series. The film's initial announcement was preceeded by a showing of the planet Jupiter, accompanied by the tagline "The Childhood of Humankind Ends". In the movie, the year is 2314 AD, two years after Celestial Being's last great battle, and the world faces a new crisis. A derelict Jupiter exploration ship, abandoned 130 years ago, has left its orbit and is approaching Earth. As Celestial Being and its Gundam Meisters begin their final mission to save humanity from an unimaginable threat, Gundam Meister Setsuna F. Seiei is about to discover the true purpose of his evolution as an Innovator, and the nature of the "dialogues" for which legendary scientist Aeolia Schenberg's plan has been preparing the human race.
Release Date: September 18, 2010
(September 25, 2010)
[youtube]AX1KLuAIdyc[/youtube]
The 6-part anime films Broken Blade / Break Blade are adapted by Production I.G and studio Xebec, based on Yunosuke Yoshinaga's fantasy-mecha manga. The story follows Rygart Arrow – the only one in his world who lacks the inherent ability to power up quartz, the energy source that makes all of the machines run. Nevertheless, he's pretty well connected. The King and Queen of his country of Krisna happen to be old college friends. But so is Zess, the guy who is leading the army of a neighboring kingdom in an attack on Krisna. How did it comes to this? There's little time to ponder the implications as an army in giant, mechanized battle suits attacks. Arrow just feels like he's in the way – until he comes across a powerful, ancient mech that no one has yet to be able to figure out how to run. But his natural affinity for the suit's operating mechanism may just turn Arrow into the most important player of all.
Release Date: September 25, 2010
( October 09, 2010)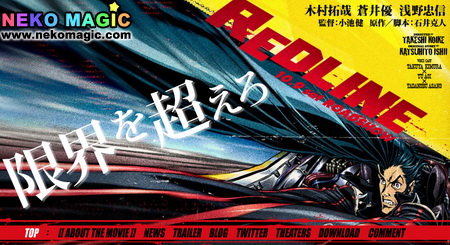 [youtube]UFkkNxXuqQ0[/youtube]
The racing anime film Redline is created by studio Madhouse, with an original story by Katsuhito Ishii (set in the same universe as the 2002 OVA Trava: Fist Planet) and directed by Takeshi Koike. After being selected at the 2009 Annecy International Animated Film Festival, Redline appeared to be cancelled in an unfinished state, only to return at the 2010 Annecy festival, with a new release date set for Fall 2010. In the story, the toughest and most destructive underground car race in the universe, called "Redline", takes place every 5 years. JP is a dare-devil reckless driver oblivious to speed limits with his ultra-customized wheels named "Transa Am". One of his competitors, Sonosee is a hot girl determined to do whatever it takes to stand on the winner's podium in the Redline. In order to win the finals, they're up against the craziest drivers on the race scene with their deadly and awesome road-tearing vehicles. Moreover the biggest problem for JP is that he secretly is in love with Sonosee. The only one rule in the race is there are no rules!
Release Date: October 09, 2010
(October 09, 2010)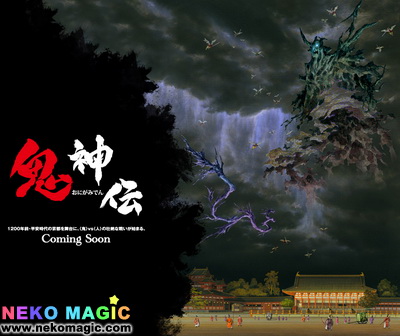 The anime film Onigamiden is adapted by Studio Pierrot, based on a two-volume novel authored by Takafumi Takada. This historical-themed feature revolves around the war between oni (demons) and humans in the former Japanese capital of Kyoto, 1200 years ago during the Heian period.
Release Date: October 09, 2010
(October 16, 2010)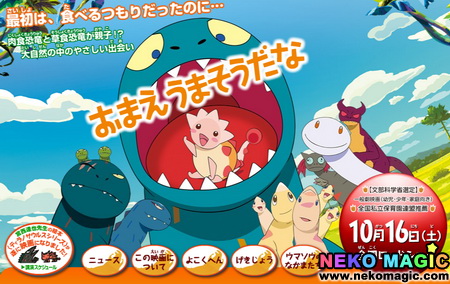 [youtube]5vUxZwUjZEM[/youtube]
The anime film You Are Umasou (Omae Umasou Dana) is based on Tatsuya Miyanishi's picture book, about a T-Rex who ends up adopting a herbivorous Ankylosaurus baby, and their journey together. The movie's premiere followed shortly after a TV anime series adaptation also began airing in Japan.
Release Date: October 16, 2010
(October 23, 2010)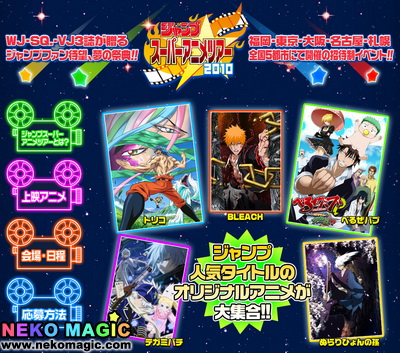 This year's 31st issue of Shueisha's Weekly Shonen Jump magazine is announcing on Monday that the Jump Super Anime Tour 2010 will have Beelzebub and Toriko as the event's main anime projects. It will be the first original anime project for the Beelzebub manga and the second one for the Toriko manga.
Release Date: October 23, 2010
Note: Includes Beelzebub, Toriko, Tegami Bachi, Nurarihyon no Mago, Bleach
(October 30, 2010)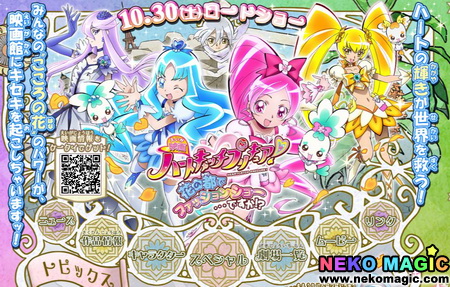 [youtube]vVyaMlF6Tp8[/youtube]
Tsubomi Hanasaki is a 2nd year middle school student who loves flowers and plants. One day, she dreams of a mysterious flowering tree that wilted, causing the sprites to disappear. When she transfers to Myodou Academy, the sprites that she saw in that dream appeared before her. The sprites begged Tsubomi to become Pretty Cure to protect the Great Tree, but she refuses. However, a sudden attack from a mysterious enemy came, and the Heart Seed of her new classmate, Erika Kurumi, is stolen. To save Erika's heart, she had no choice but to become a Pretty Cure and fight
Release Date: October 30, 2010
(November 06, 2010)
[youtube]6uy2mY1Vpy8[/youtube]
Armored Trooper Votoms Case;Irvine is one of three new Votoms OVA projects revealed in early 2010, produced as usual by studio Sunrise, with crew members who previously worked on Code Geass and My-HiME. Set in a world where underground "Battling" among Armored Troopers is popular among gamblers, the story starts when easygoing Irvine – a repairer of the tank-like robotic Armored Trooper mecha – loses on purpose to strait-laced Paygun.
Release Date: November 06, 2010
(November 06, 2010)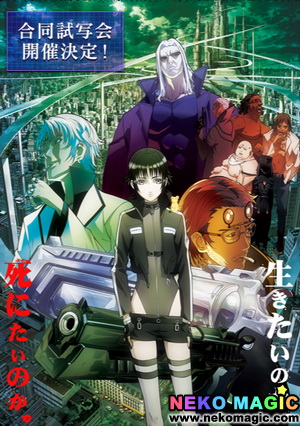 (18+)
[youtube]Lnx11dWgMlo[/youtube]
The anime film Mardock Scramble: The First Compression marks the beginning of studio GoHands' animated trilogy based on Tow Ubukata's sci-fi novel series. This is the second attempt at adapting said novel into an anime project, after Geneon's failed attempt at a Mardock Scramble OVA – which they cancelled in December 2006. The original novel is about a former prostitute named Rune Balot, who dies as her body is burned by a devious gambler named Shell. However she resurrects, and sets herself on a path for revenge. Now a cyborg, Balot has not only physical powers, but the ability to disrupt social environments. She chases after Shell, his partner-in-crime Boiled, and faces down a variety of insane villains in this pulse-pounding cyberpunk noir adventure.
Release Date: November 06, 2010
(Fall 2010)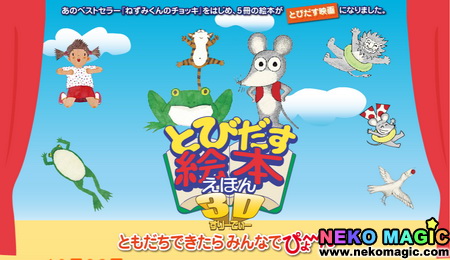 << TV I | TV II | TV III | OVA I | OVA II | OVA III | Movie >>