2010 Fall anime Part 6: OVA/OAD III:
Mahou Sensei Negima! ~Mou Hitotsu no Sekai~ Extra (OAD)
kiss x sis (OAD)
G-Best -G-taste Best Selection- (OAD)
T.P. Sakura ~Time Paladin Sakura~ Jikuu Boueisen (OVA)
.hack//Quantum (OVA)
Mazinkaiser SKL (OVA)
Koi☆sento (OVA)
Kyou, Koi wo Hajimemasu (OAD)
Issho ni Series 3 (OVA)
<< TV I | TV II | TV III | OVA I | OVA II | OVA III | Movie >>
(November 17, 2010)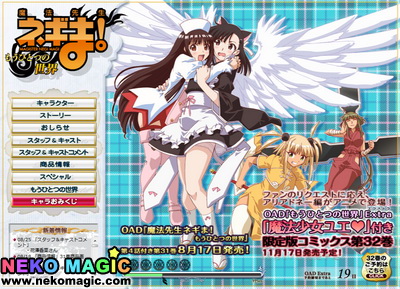 Negi Springfield and his gang of students, The White Wing (aka Ala Alba), continue their search for Negi's father by planning a trip to the magic world. The series starts off with their arrival in London and their trip to Negi's home town.
Release Date: November 17, 2010
Note: Bundled with manga Vol.32
(November 22, 2010 (ep4))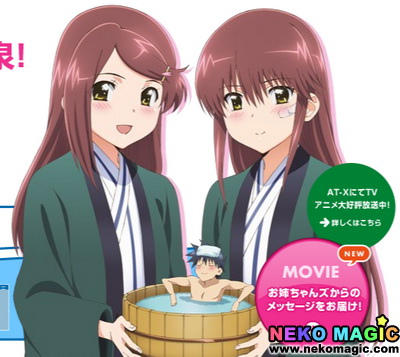 The OVA series Kiss x Sis is based on Bow Ditama's manga about sisterly love. And not just any kind of sisterly love, but a double step-sisterly love. The original "romantic incest comedy" manga centers on Keita – a third-year middle school boy studying for his high school entrance exams. His two twin stepsisters Ako and Riko Suminoe – with no blood relation to him – help him prepare for the exams, but life gets too cozy between Keita and the girls.
Release Date: November 22, 2010 (ep4)
Note: Bundled with manga Vol.7
(November 22, 2010)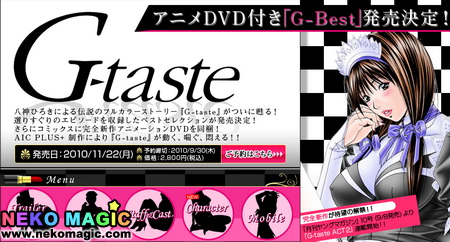 This 25-minute anime G-Taste is produced by studio AIC Plus+, and it's the second OVA adaptation of Hiroki Yagami's erotic manga. The 2010 anime features five of the popular characters from the manga – including a chaste wife, a shy nurse, a competent secretary (competent at what?…) and a submissive maid.
Release Date: November 22, 2010
Note: Compilation manga bundle
(November 27, 2010)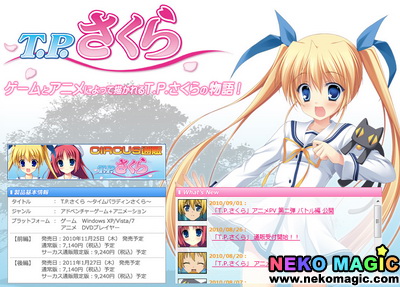 T.P. Sakura: Time Paladin Sakura is a spinoff OVA (accompanied by a spinoff game) based on the D.C.: Da Capo franchise, focusing on the Sakura Yoshino character from the original game developed by Circus. In this OVA, Sakura appears to be a seemingly ordinary 9-year-old third grader in Kazami Academy's elementary school, except she is actually a "super-girl" who can invoke magical powers.
Release Date: November 27, 2010 (ep1)
Note: 2 episodes in total
(November 27, 2010)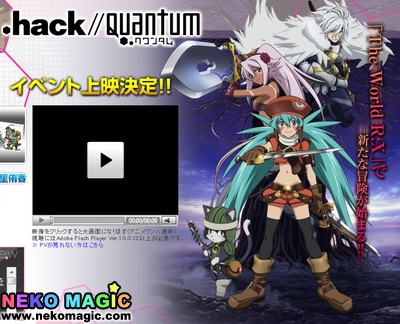 The 3-episode OVA .hack//Quantum is created by studio Kinema Citrus (who previously contributed with animation work on Tokyo Magnitude 8.0 and the Eureka Seven movie in 2009). In .hack//Quantum, the characters Tobias, Mary, and Sakuya form a party and embark on a high-difficulty-level quest in The World R:X. – the new version of The World seen in the 2010 PSP game .hack//Link.
Release Date: November 27, 2010 (ep1)
Note: Anime Fes. VS premiere. 3 episodes in total
(November 27, 2010)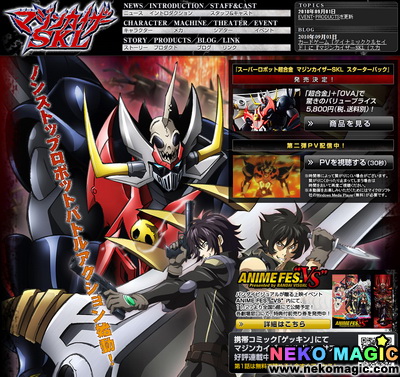 The multimedia project Mazinkaizer SKL – consisting of anime, manga and novel adaptations – is billed as the return of the MazinKaiser anime franchise, which is itself a spinoff from Go Nagai's classic super robot manga and anime series, Mazinger Z. This 3-episode OVA is animated by studio Actas.
Release Date: November 27, 2010 (ep1)
Note: Anime Fes. VS premiere. 3 episodes in total
(November 27, 2010)
The single-episode OVA Koi Sento is created by studio Sunrise as a super sci-fi romantic comedy anime. The story is set in 2710 in the city of Nara, where the national capital has been relocated. For historical preservation and tourism, the country's cultural treasures – including entire buildings – have been moved en masse and assembled inside a humongous building. A second-year high school student named Shinichi is visiting Nara on a field trip. No matter where he looks, there are deer everywhere. Shinichi is getting bored when, suddenly, a deer takes off with his bag, leading to a mad chase through the streets of Nara. In the middle of the chaos, Shinichi helps a mysterious, beautiful girl named Toto, who is being chased by unknown followers. Because of these odd circumstances, the two end up on a sight-seeing date throughout the locales of Nara.
Release Date: November 27, 2010
Note: Anime Fes. VS premiere
(November 2010)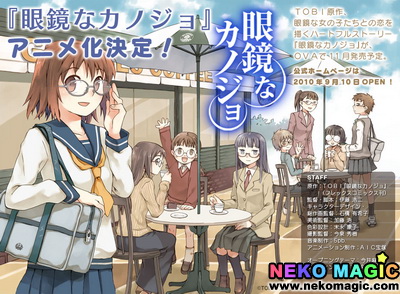 The 4-episode OVA Megane na Kanojo is adapted by studio AIC Takarazuka, based on Tobi's romantic comedy manga – originally an omnibus-style collection of 8 stories about girls with glasses. Among them: a sempai, a tsundere (aloof and abrasive, but secretly affectionate), an airhead, an oneesan (older sister type), an elementary schoolgirl, and an idol. The anime's stories will include the literature club sempai and the popular idol from the manga's first 2 installments.
Release Date: November 2010 (ep1)
Note: 4 episodes in total
(Fall 2010)

The anime adaptation Kyou, Koi o Hajimemasu is produced by studio J.C. Staff, based on Kanan Minami's shoujo romance manga, whose 9th volume is bundling this OVA. The story centers around Tsubaki Hibino, a girl who is indifferent to both romance and fashion, even though she loves giving other people adorable hairstyles. On the first day of high school, she happened to sit next to Kyouta, a mean-spirited boy who teases her. In retaliation, she spontaneously pulls out scissors and cuts off his long tresses of hair. Thus begins the long love-hate relationship between Tsubaki and Kyouta.
Release Date: Fall 2010 (ep2)
Note: Bundled with manga Vol.10
(Fall 2010)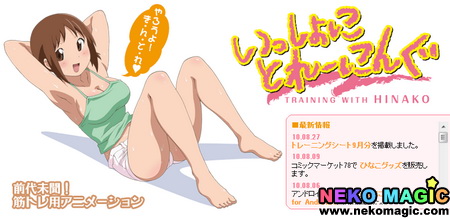 The anime studio Primastea is planning to release the third project in the Isshoni franchise this fall. The project is now "in diligent production," and more details will be announced in the future.
The Isshoni franchise launched in April of 2009 with Isshoni Training: Training with Hinako, an exercise video with an anime girl that became a surprise hit and sold 13,300 copies in its first two weeks. The second project, Isshoni Sleeping: Sleeping with Hinako, launched in February with the title character returning for a "pleasant sleeping and alarm clock" anime.
Release Date: Fall 2010
Note: 3rd OVA
<< TV I | TV II | TV III | OVA I | OVA II | OVA III | Movie >>