2010 Summer anime Part 5: Anime Movie
Ginmaku Hetalia Axis Powers Paint it, White (June 05, 2010)
Break Blade 2: Ketsubetsu no Michi (June 26, 2010)
Uchuu Show e Youkoso (June 26, 2010)
Pokemon Diamond & Pearl Movie: The Phantom Champion Z (July 10, 2010)
Karigurashi no Arrietty (July 17, 2010)
Hiyoko (July 30, 2010)
Konchuu Monogatari Mitsubachi Hutch: Yuuki no Melody (July 31, 2010)
Mokei Senshi Gunpla Builders Beginning G (August 10, 2010)
Colorful (August 26, 2010)
Metal Fight Beyblade (August 21, 2010)
Thriller Restaurant (August 21, 2010)
Loups=Garous (August 28, 2010)

This is the last post for the 2010 Summer anime season. Finally I'm done! It took me a lot of time to make these post even thought all I did was copy stuff from different website and looked for trailers from Youtube. (@@.
There are some movie that look really interesting. "Uchuu Show e Youkoso", "Karigurashi no Arrietty", "Colorful", and "Loups=Garous" really catch my eye. The Gumpla one looks stupid to me but who knows, I might watch it too. But all of them are movie, we have to wait for at least another half year for the Bluray/DVD. =/
<< Part 1: TV | Part 2: TV | Part 3: OVA | Part 4: OVA | Part 5: Movie >>
(June 05, 2010)
[youtube]jNWg3XxLFrk[/youtube]
Italy, once home of the strongest empire in the world, has changed. This is the story of Italy, now a cowardly pasta-loving fool, and his friends (other personified countries of the world) as they live through strange moments in world history.
Release Date: June 05, 2010
(June 26, 2010)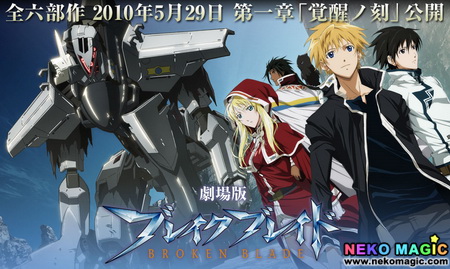 [youtube]AX1KLuAIdyc[/youtube]
The series is centered around Rygart Arrow, an "un-sorcerer" born into a world of people who can use magic. These people can make quartz do many things, but Rygart is one of the few exceptions; he cannot use quartz, making many aspects of life difficult for him. Yet despite this, at military school, he manages to become best friends with Hodr and Sigyn, the future King and Queen of the Krisna Kingdom and Zess, the younger brother of the Secretary of War of the Athens Commonwealth.
Release Date: June 26, 2010
(June 26, 2010)
[youtube]IzK9JbeMSP4[/youtube]
A tiny mountain village in a remote woodland region. Five primary school kids have come together in this idyllic spot in order to spend their summer holidays at a camp. At first the children enjoy carefree days amidst unspoiled nature far away from adult supervision. But their life changes dramatically when they come across what they believe to be a small dog, badly in need of help. The creature – known as Pochi – turns out not to be a dog at all but an alien on an important mission. It seems there is a mysterious substance on earth that is coveted throughout the universe. Pochi had almost found it but was so badly injured during a fight that he had to give up his search. Thanks to the children's help, the alien survives – and decides to reward them generously. "Where would you most like to travel?" is the question Pochi puts to his rescuers. Their answer is prompt, if vague:
"As far as possible!" Pochi suggests they try the moon first of all, and so, the alien whisks away the kids to the satellite next door. This marks the beginning of an absolutely amazing adventure. During the course of their travels they discover that the substance coveted throughout the universe is in fact also integral to Japanese cuisine – and it just so happens that one of the kids has some of this mysterious substance in his pocket.
Release Date: June 26, 2010
(July 10, 2010)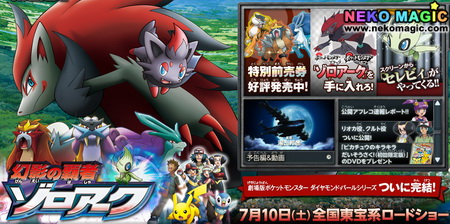 [youtube]gaBVDc6-_w4[/youtube]
The plot of the new Pokemon Movie, titled "The Phantom Champion Zoroark" centres around Celebi, who sees Rakiou, Entei, and Suicune battling in the near future. Celebi, in an attempt to stop these events from transpiring, travels back in time to our present. In the present, however, Ash Ketchum encounters a shady figure alike in appearance to himself, but differing in that he's evil.
Release Date: July 10, 2010
(July 17, 2010)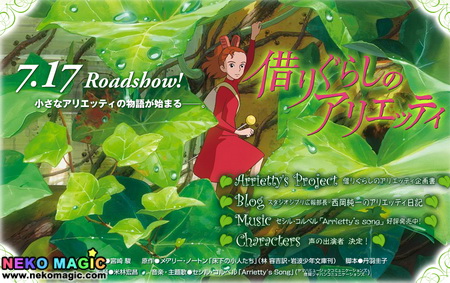 [youtube]Ak_ogRodsdw[/youtube]
The story will take place in 2010 in Koganei, western Tokyo and like the novel will revolve around a group of creatures that live under the floorboards, and where a friendship is created between a human and the borrower Arrietty.
Release Date: July 17, 2010
(July 30, 2010)
Hiyori, a small and timid girl, goes to school for the first time in a year since an accident left her hospitalized. Follow her as she struggles with her social skills, tries to make friends and maybe even a little bit more…?
Release Date: July 30, 2010
(July 31, 2010)
[youtube]84Kvi8VN_1s[/youtube]
Release Date: July 31, 2010
(August 10, 2010)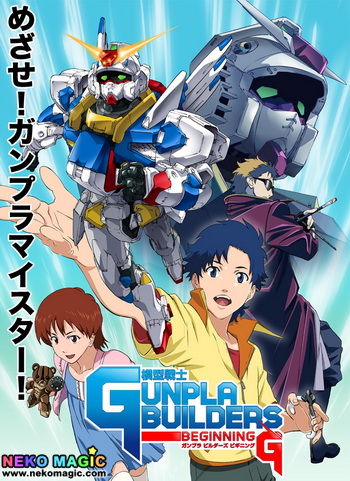 The main character of the story is Haru Irei, a boy who becomes a "Gunpla Builder" after a fateful encounter with the Beginning Gundam plastic model. (In real life, Bandai is producing a Beginning Gundam model kit in 1/144 scale, but has not set a release date or price.) Rina Noyama is an always cheerful girl who, like her friend Haru, is a big fan of Gunpla. Haru's pal Kenta Sakazaki is a boy who loves Gunpla and gives advice to Haru about building them.
Release Date: August 10, 2010
(August 26, 2010)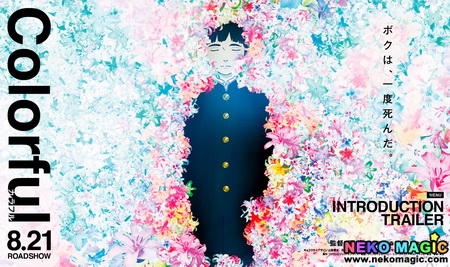 [youtube]V7yzMWeM9to[/youtube]
Based on Eto Mori's young adults' novel.
Release Date: August 26, 2010
(August 21, 2010)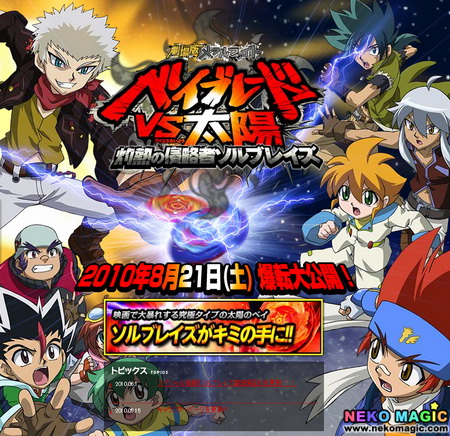 [youtube]KdRMTKV-imA[/youtube]
Release Date: August 21, 2010
(August 21, 2010)
[youtube]H2eWNn1FQHM[/youtube]
A hybrid live-action/anime film version of the Thriller Restaurant horror storybook series has been green-lit for this August. In the stories, the owner of the titular restaurant recounts macabre tales of horror to several local children interested in paranormal phenomena. Ayano Kudō, the winner of 2009's Zen-Nihon Kokumin-teki Bishōjo Contest, will play a new character — 14-year-old spirit detective Haru Amano — in this film version. Masayuki Ochiai will direct the project after helming the Shutter and Parasite Eve films.
Release Date: August 21, 2010
(August 28, 2010)
[youtube]Nvp7gkNTthU[/youtube]
The story takes place in a near future. Population of mankind greatly decreased due to a killer virus. People avoid physical contacts ("real contact") with each other and most of the human activities are done online. In such a controlled world, a group of girls actively make real contact. A serial killer, murdering only girls, makes them confront the rules of this closed world.
Release Date: August 28, 2010
<< Part 1: TV | Part 2: TV | Part 3: OVA | Part 4: OVA | Part 5: Movie >>