2010 Summer anime Part 1: TV anime I
La campanella della benedizione (July 01, 2010)
The Legend of the Legendary Heroes (July 01, 2010)
Amagami SS (July 01, 2010)
Kuroshitsuji II (July 01, 2010)
Ookami-san to Shichinin no Nakama-tachi (July 01, 2010)
Seitokai Yakuindomo (July 03, 2010)
Digimon: Xros Wars (July 06, 2010)
Shiki (July 08, 2010)
Sengoku Basara Two (July 2010)
Seikimatsu Occult Academy (July 2010)
It is June already and that means the new anime season is here! Strange enough we don't have any new TV anime in June but we do have some OVA/OAD and anime movie this month. The anime in Summer season looks so much better than the current season. I don't have many anime to watch in this season but it seems like I gonna be really busy in Summer. =D
Because of the lovely GK by Volks, I'm going to watch "La campanella della benedizione" for sure. And for sure I'm going to watch Shiki. I love the manga a lot and the anime looks really great too.
As for "Ookami-san to Shichinin no Nakama-tachi", I had read couple chapter of the manga and it was boring. But for the sake of the fake Taiga and the loli little red riding hood, I'll give it a try.
"Seitokai Yakuindomo" and "Seikimatsu Occult Academy" look interesting too and I'll see if I like them.
<< Part 1: TV | Part 2: TV | Part 3: OVA | Part 4: OVA | Part 5: Movie >>
(July 01, 2010)
[youtube]3M39abXGUU8[/youtube]
In Ert'Aria, a city known as the "treasury of the world" for the great riches that pass through its streets. The city is in the middle of preparations for a special harvest festival; every seven years, the harvest of the mysterious energy source known as Ēru is more abundant than usual and attracts merchants, tourists, and adventurers from around the world. During those abundant years, a "Day of Shooting Stars" lights up the night skies.
Leicester Maycraft is a young item technician who lives in the city as part of the Oasis adventurers clan. On the "Day of Shooting Stars," one shooting star lands near a party that Leicester attends. When Leicester searches for where the shooting star landed, a girl appears before Leicester and says, "You are my Papa!"
Release Date: July 01, 2010
(July 01, 2010)
[youtube]wcDgfvgImSY[/youtube]
Raina Lute is a lazy student of Roland Empire Royal Magician's school. One day, Roland Empire goes to war against a neighboring country Estaboole, and he lost his classmates in the battle. After the war, Lute sets out for a journey to search the relics of a "Legendary Hero" at Emperor Zion Astar's command. And he finds out a deadly curse spreading the continent.
Release Date: July 01, 2010
(July 01, 2010)
[youtube]GvlajwQ7LV8[/youtube]
A second-year high school boy finds himself uneasy during Christmas time due to an experience in the past. However, this year at Christmas, he gets his last chance to ask out a graduating female senior named Haruka Morishima — or one of several other classmates. The story of the anime will be arranged in an omnibus format, with each heroine getting her own version of the story animated. Each heroine will sing her own version of the ending theme song.
Release Date:July 01, 2010
(July 01, 2010)
[youtube]pppD_COteHc[/youtube]
A sequel to the first Kuroshitsuji anime, about a 12 year old English Noble and his impeccibly skilled butler, who happens to be a demon. The new series will introduce butler Claude Faustus and master Alois Trancy as the principal characters.
Release Date: July 01, 2010
(July 01, 2010)
[youtube]2yuZZFulhhU[/youtube]
A love comedy parodying fairy tales such as "Little Red Riding Hood," "The Ant and the Grasshopper," etc. Ookami Ryoko (Ookami-san) is a spunky high school girl. She is a member of a "fixer" club so called Otogi High School Bank. She fixes the school's problems with her partner Akai Ringo (Akazukin-chan.)
Release Date: July 01, 2010
(July 03, 2010)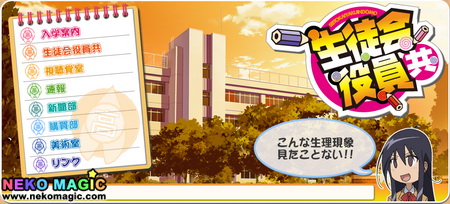 [youtube]E8Mkp_AilGw[/youtube]
Takatoshi is a new student in a recently gender-integrated high school, and is asked to join the student council as the vice president. Thu begins his days as the only normal boy among 3 female student council officers.
Release Date: July 03, 2010
(July 06, 2010)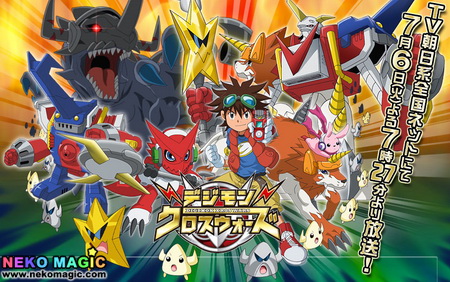 Little is known of the actual storty content of the anime, apart from that it will involve battles based on the Sengoku period and will follow a more traditional setting. It is meant to coincide with the release of new toy straps and capsules.
Release Date: July 06, 2010
(July 08, 2010)
[youtube]TZKNIhMqBH4[/youtube]
Sotoba is a small, quiet village where life has always been peaceful. Natsuno Yuuki, who moved from the city, hates it. However, recently a strange rash of mysterious deaths has begun to torment the village, and an epidemic is suspected. As various investigations continue, the truth behind the deaths becomes clear. The town is being attacked by vampires.
Release Date: July 08, 2010
(July 2010)
[youtube]zqbHli3vshQ[/youtube]
A continuation of the first series. In feudal Japan's bloddy Warring period, ther is an endless struggle for power. Sanada Yukimura and Date Masamune, young warriors and heated rivals, form an unlikely alliance with other generals to take down the Dark Lord, Oda Nobunaga.
(July 2010)
[youtube]xXILF_q0_uY[/youtube]
The story revolves around Maya – The daughter of the Former head Master of a private Japanese academy dedicated to the study of the occult who died in 1999, and a time traveling agent Uchida a mysterious young man who travels back in time from 2012
<< Part 1: TV | Part 2: TV | Part 3: OVA | Part 4: OVA | Part 5: Movie >>