2008 Fall anime Part 6:
Tytania
Tetsudou Musume ~Girls be Ambition~
Junjou Romantica 2
Negi-Bouzu no Asatarou
Michiko to Hatchin
Inuzama Eleven
Alive – Last Evolutionary Boy
Bihada Ichizoku
Tytania (10/09)
http://www.tytania.jp/
The capital of the Empire of Euria is attacked by the Empire of Titania, a much more powerful enemy that controls a large part of the galaxy. The story follows a soldier who flees the Titania empire and seeks refuge with the rebellion force, that rose up since the battle. The staff behind this include several big names in the anime industry.
Tetsudou Musume ~Girls be Ambition~ (10/10)
http://tetsudou-musume.net/
Accompanies the figure franchise
Junjou Romantica 2 (10/11)
http://www.suzukisan.info/
A sequel to the first series.
Negi-Bouzu no Asatarou (10/12)
http://www.toei-anim.co.jp/tv/negibozu/
An adaptation of children's picture books
Michiko to Hatchin (10/15)
http://www.michikotohatchin.com/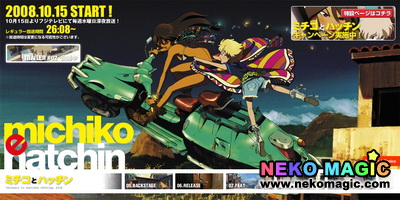 Michiko is a free-willed "sexy diva" who destroys a supposedly inescapable prison fortress, while Hatchin is a girl fleeing her strict foster parents. The two join forces on an improbable escape to freedom.
Inuzama Eleven (10/05)
http://www.tv-tokyo.co.jp/anime/inazuma/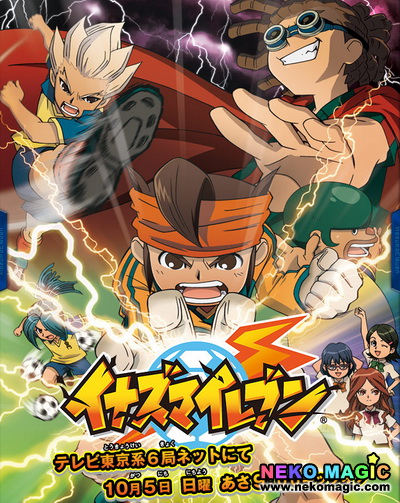 An anime adaptation to accompany the DS Game.
Alive – Last Evolutionary Boy (2008 Fall)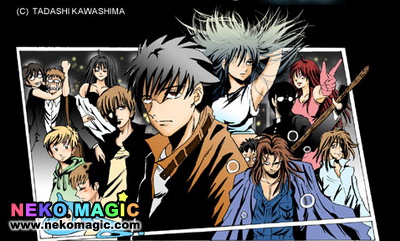 Taisuke Kanou is hit by something unworldly and for a split second, he sees a vision of the universe. Walking home, he sees a girl fall and die in front of him, but he only seems jealous. A strange sensation is spreading throughout Japan. Those who are struck by it either commit suicide of "evolve". But the "evolved" usually have dark intentions.
Bihada Ichizoku (10/06)
http://www.lovelabo.co.jp/about/
There is a World Beautiful-Skin Competition (WBC) to which the 3 billion women of the world aspire. Carrying on the 300-year legacy of the competition are the twin Bihada sisters, Sara and Saki.
source from Denizen's Blog