2008 Fall anime Part 5:
Vampire Knight Quilty
ef a Tale of Melodies
One Outs
Kurozuka
Mouryou no Hako
Stitch!
Nodame Cantabile Paris Chapter
Chaos Head
Vampire Knight Quilty (10/06)
http://www.vampire-knight.jp/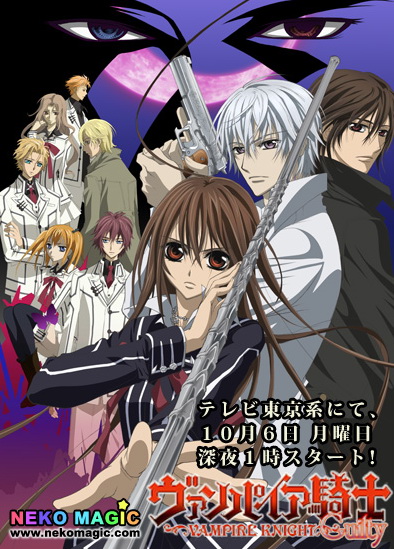 A sequel to the first series.
ef – a Tale of Melodies (10/06)
http://www.ef-melo.com/top.html
A sequel to the first series.
One Outs (10/07)
http://www.ntv.co.jp/oneouts/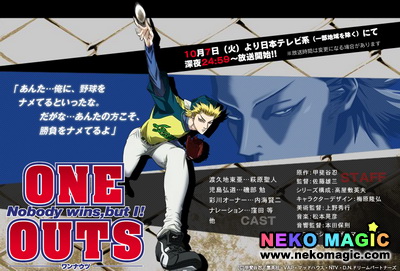 Hiromichi Kojima meets Toa Tokuchi, a 1340kmph pitcher and the undisputed king of a gambling form of baseball called "One Out". Tokuchi signs up with the Lycaons under an unusual contract: he gets 5,000,000 yen for every out he pitches, but loses 50,000,000 yen for every point he gives up. By the same staff as Akagi and Kaiji
Kurozuka (10/07)
http://www.animax.co.jp/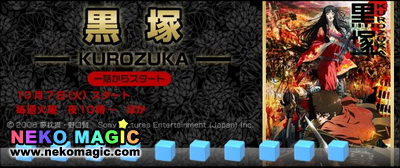 Kuro, a 12th-century man, flees into the mountains after losing to his brother, where he meets a strange, beautiful woman named Kuromitsu. Kuro falls in love with Kuromitsu, but realizes she conceals a dark secret. H is unable to die and continues to live for a thousand years as Japan evolves into a future society.
Mouryou no Hako (10/07)
http://www.ntv.co.jp/mouryou/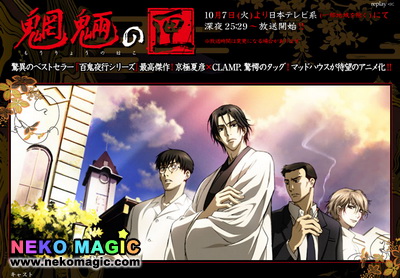 The story follows a series of bizarre murders of schoolgirls who have been dismembered and stuffed into boxes. The private investigator hired by a missing daughter's mother joins forces with an antique book seller and others to unravel the murder spree. Character designs by CLAMP.
Stitch! (10/08)
http://www.disneychannel.jp/dc/program/anime/stitch/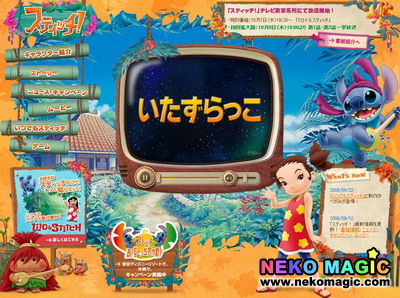 An anime re-imagining of Stitch, this time set in Japan with many Japanese Cultural aspects in place of the original Hawaiin theme.
Nodame Cantabile Paris Chapter (10/09)
http://www.nodame-anime.com/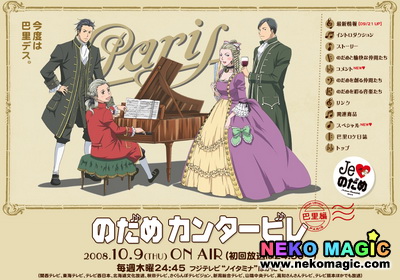 Two music students drive themselves and each other to greater artistic heights, in Japan and now Europe.
Chaos;Head (10/09)
http://www.chaoshead.jp/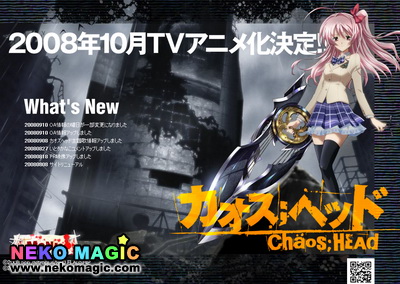 Skinkuju is stage to a series of murders – New Generation. Young people are murdered in brutal ways. Takumi, an intenet addict, starts talking with "Shougun" who has a huge take on the next murder. He gives Takumi information that leads him straight to the murder scene, an event that disturbs his life.
source from Denizen's Blog