2008 Fall anime Part 2:
Casshern SINS
Hyakko
Yozakura Quartet
Kuroshitsuzi
CLANNAD: After Story
Akane Iro ni Somaru Saka
Tales of the Abyss
Tentai Senshi Sunred
Casshern SINS (10/01)
http://www.casshern-sins.jp/
Casshern is about a cybory who rises against the robotic armies that have subjugated all of humanity.
Hyakko (10/01)
http://hyakko.jp/
Based off of Katou Haruaki's online comedy manga. The story follows four freshman girls and their wild antics in multi grade level academy.
Yozakura Quartet (10/02)
http://www.tbs.co.jp/anime/yozakura/
The story revolves a quartet of teenaged heroes: a super-strong girl named Hime, a mind-reader named Ao, a conjurer named Kotoha – and an ordinary, powerless boy named Akina. The three girls and Akina protect the city of Sakurashin from supernatural threats.
Kuroshitsuzi (10/02)
http://www.kuroshitsuji.tv/
One of the noble families of England – Phantomhive, has a butler, Sebastian Michaels. He has unquestionably perfect knowlege, manners, talent with materials, martial arts and much more, and he also has to serve a 12 year old master.
CLANNAD ~After Story~ (10/02)
http://www.tbs.co.jp/clannad/
A sequel to the recently wrapped anime based on the Key CLANNAD franchies. After Story is a path that oepns in the original visual novel after all the other paths have been opened.
Akane Iro ni Somaru Saka (10/02)
http://www.mmv.co.jp/special/akasaka/
In order to protect Yuuhi Katagiri, a new transfer student, from danger, Junichi Nagase is forced to kiss her. Not understanding what happened, she screams at him to "just die", not knowing that her father has arranged her to marry him.
Tales of the Abyss (10/03)
http://www.tv-toa.jp/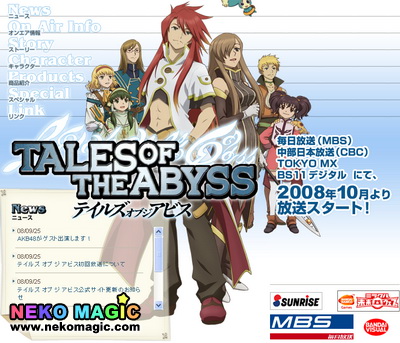 An adaption of the RPG game.
Tentai Senshi Sunred (10/03)
http://www.sunred.jp/
The story revolves around the hero Sunred's battles against General Vamp and his shadowy group of minions in a spoof of classic Japanese anime and live-action speical-effects shows
source from Denizen's Blog