Reviewed – by kokoda_koji
This ep is really interesting and funny, though Detective Komachi doesn't really point out who is the culprit. As I think that someone may not watch the ep yet, I won't reveal who the one who stole the cake is. There is not much fighting in this ep, but it is an interesting short fight(?). Hoshina does not appear as well. In the last part, Milk plant the blue seed, and it become a blue rose and sparkle. Hence, Milky Rose may be: 1. a person come out from the rose; 2. the rose make Milk become Milky Rose. If Milk continue to send letters after ep 12, Milky Rose may not be Milk.
However, the drawing is really bad for Nozomi and Syrup…but Coco draws well in some parts, may be the character designer had corrected it. We can see the structure of Nuts House in this ep
Let's go to pictorial comments!
Firstly, let see the key item:

This is the attractive Special Strawberry cake

Shocking white thunder, it come out twice in this ep.
These are the suspicious faces in the group. But why there are no Urara, Coco and Nuts face>3<When they are pointed as the culprit, they have different reactions.
1. Rin


Just explain in joking face
2. Karen


explain in puzzled face
3.Urara
Using her acting to get others' sympathy
4. Nozomi and Syrup


Keep shaking their head. Syrup change back to animal (but why he has to change)
5. Nuts


change back to animal and argue with Syrup
6. Coco
He tries to stop the fight but end up to be suspected. Later change back to animal and act like a child.Also the left picture is the one I think the character designer has corrected the drawing. (as I think that this director can't draw like this)
7. There is no picture for Komachi.
She just explain like Rin when she is suspected
8. Bunbee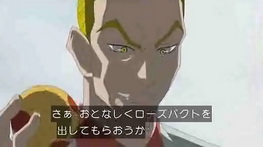 He also eat cake, but not the key item:


I think these cake look more delicious than the key item.
Too bad Pc5 won't hear his explanation:
He is beaten up. The last part "Yes!" really make me laugh. Also, this is the first time(I think) Komachi orders other to transform. Coco, Nuts, Syrup and Mailpo also pose like PC5 in the left picture. By the way, Nuts house is located in a deserted place…
Additionally, this is Komachi default(?) pose in this ep:

And this is the structure of Nuts House (the way they draw like some RPG game):
Lastly, this is the last part of this ep, the blue rose grows:

Today there are 2 Extras:
Extra 1: ep 11, 12 title and 13 intro
Extra 2: Precure Piano score
From Megami Magazine:
11話 華麗に変身!ミルキィローズ!(4/13) ep 11 Gorgeous transformation! Milky Rose
12話 美々野くるみがやってきた!(4/20) ep 12 Mimino Kurumi is coming
13話 悪夢の童話世界!(仮)(4/27) ep 13 Nightmare fairy tale world Syrup is worried that he can't go to Cure Rose Garden. Later Syrup, Coco, Nozomi are sucked into the black hole and go to Pinokio (forget how to spell, the one about the puppet adventure) world
Milky Rose will appear in next ep, but only in few minutes, don't know if next ep will show the attack, but the transformation is in ep 11.
post the picture from Precure board first:

really want to buy the score, don't know if anyone post this to web or the music shop in Hong Kong sell these two book (previously I can buy Conan score from Hong Kong music/piano shop)